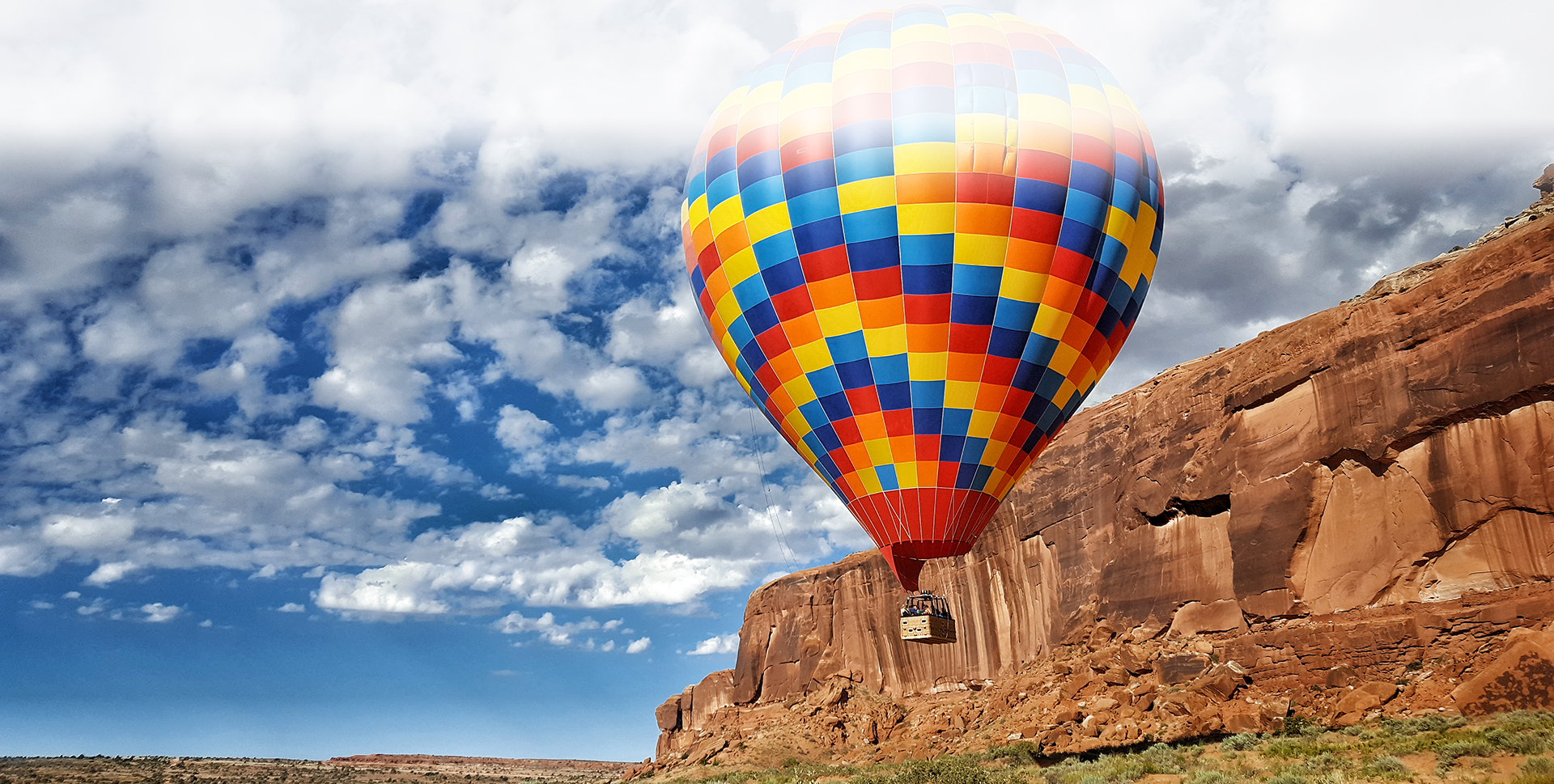 MOAB'S PREMIER
5-STAR HOT AIR
BALLOON RIDES

Experience & Safety Matters:
Come Fly with Moab's Most
Experienced 5 Star Operator
with a Perfect FAA Record
Exclusive Flights Available
Call now for 20% off
Holiday Gift Certificates for 2023
Book Flight
Defy Gravity
Imagine ascending to greet the sunrise as you drift among geologic wonders that were being created when dinosaurs roamed the earth. The fragile sandstone of Arches National Park and precarious rock towers drift past, each one defying gravity with you. Across the horizon, the 13,000 foot La Sal Mountains cast a long shadow upon the town of Moab and Canyonlands National Park. The pilot and the winds navigate to your own personal destination, your mind and camera alive with images that will last a lifetime.
Your Adventure Awaits
Moab, Utah

•

Arches

•

Canyonlands
Memories to Last a Lifetime
Who We Are
Canyonlands Ballooning pioneered hot air ballooning in Moab, Utah. We were the only operator until 2020. We are the premier hot air balloon company with over 900 reviews. We fly the Moab, Canyonlands, and Arches area. We are a family-owned and operated business. We are proud to offer you an unforgettable and unique balloon adventure near Moab.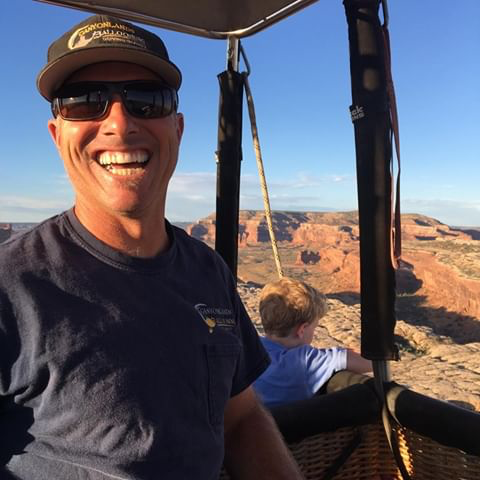 Lou Bartell
Owner, Pilot
I am an FAA-licensed pilot and owner and operator of Canyonlands Ballooning. I have been a pilot in command/owner flying in Moab for 16 years. I have flown everything possible--hot air balloons, sailplanes, hang gliders, ultralight, and airplanes. Having spent the last 33 years exploring the Moab and Canyonlands area, I am uniquely familiar with the beautiful intricacies of this delicate desert landscape. Starting Canyonlands Ballooning is a dream come true--blending my love of flight, the Canyonlands/Moab area, and sharing the adventure with people from around the world. I cannot wait to take you flying with me!
HOT AIR BALLOON SCENIC FLIGHT IN MOAB, UTAH
"Our balloon ride was so special. Lou put us all at ease and after we were airborne pointed out features below. A hawk was hunting and didn't even realize we were flying silently above him. It was a magical experience! We'll never forget it."
More about Canyonlands Ballooning
Canyonlands Ballooning offers you a unique sunrise scenic tour daily. Each scenic flight meets around sunrise just about 15 miles north of Moab, Utah near Arches and Canyonlands National Parks. From our meeting location, Canyonlands Ballooning takes you in our 4WD vehicles to the launch site. Your pilot has different launch sites.
Each morning, after a careful analysis of the prevailing winds, the pilot chooses the best launch site to provide you with optimal views of Canyonlands and Arches National Park. At the launch site, your pilot and chase crew will inflate the beautiful hot air balloon canopy. Once inflated and several pictures later, you will gently lift off Mother Earth. Up, Up and Away in YOUR beautiful hot air balloon. You will be in the air for just over an hour.
Every flight is different as there is no steering wheel in a hot air balloon. The pilot and winds navigate you to your destination. You may fly over sandstone formations, cliffs, buttes, canyonlands, natural arches, canyon mazes, or Arches National Park. If you are lucky you may also see pronghorn antelope, desert bighorn sheep, and other birds of prey. Once we land the hot air balloon, the pilot will join with you in a celebratory toast out in the Canyonlands.
Our professional chase crew will return you to the meeting location after your Moab adventure. Please bring your cameras, video cameras, and GoPros to memorialize this once-in-a-lifetime scenic hot air balloon flight in the Adventure Destination of Moab, Utah.
Meeting Site
We'll be meeting at the Archview Campground, 8.6 miles north of the CO River crossing and 6.5 miles north of the entrance to Arches National Park.
Moab, Utah is the Adventure Destination of the West
Moab is home to two of Utah's Mighty 5 National Parks---Arches and Canyonlands National Park.  Nothing compares to watching the sunrise over the desert landscape of Canyonlands National Park and Dead Horse State Park. Arches National Park with its sandstone arches, canyon mazes, and balancing rocks is breathtaking. From desert mazes, and sandstone formations to the mighty Colorado River, there are endless outdoor activities for kids of all ages.